Located in the heart of Jaipur within a kilometre of Mirza Ismail road, Chirmi Palace is a 136-years-old heritage property which has been home to the erstwhile rulers of Chomu.
The avid traveller/guest have multiple options to soak the beauty spread around: relax at the wine bistro or at the laidback backyard, or perhaps dip in the pool if the weather permits!
The property offers a lounge area, open kitchen, a terrace with a Jacuzzi.
There are four well-appointed rooms overlooking the city which are decorated in traditional Jaipur style, resonating the city's cultural beauty everywhere you look.
This property has a touch of ancient times, which is portrayed through its walls, chandeliers etc. For stay, they've these bunk beds with rooms and a swimming pool and a sports bar with an aesthetic vibe that sets the right mood. The sports bar looks best on weekends.
It is a perfect place for someone who is a techno head. As they play techno not only on weekends but also on week days after 7pm, which is wonderful. The outdoor sitting is plush and small pockets of indoor dining gives you a feel of a fine dining experience.
They have multiple areas to sit, in hall, outside, backside tables are also available which gives audience a huge choices to choose for themselves.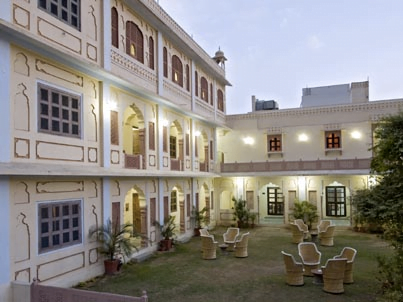 The place is full of life and has an elite young audience. It is situated in the residential area but still it's easily reachable. Drinks are amazingly priced comparative to the quality they serve. The food is mouthwatering and flavorsome.
It's all in all worthy to experience it. The hospitality and the warmth that the team excludes towards their guests is exemplary. You definitely have to book your favorite cornered tables on weekends to avoid further disappointments.
You should go and check yourself what's all the noise is for.