Maihar situated in Madhya Pradesh in India is famous for the Maa Sharda Temple nestled in the Trikut hills and the Maihar Senia Gharana of music. Princess Jailakshmi shares an exclusive inside story 'My Teens in Maihar' with The EBNW Story. Read it here to know how the age-old gharana kept its name over the years following the strict disciplinary practices which yearned musicians of global fame.
By Jailakshmi Vasdev
The name Maihar is derived from "MAI- HAAR"- The Temple of Sharda MAI with the HAAR -Necklace of the Hills garlanding the MAI.
Maa Sharda Temple Maihar
Maihar is famous for the Ma Sharda temple nestled on the Trikut hills and the Maihar Senia Gharana of music.
HH Maharaja Brijnath Singh Ju Deo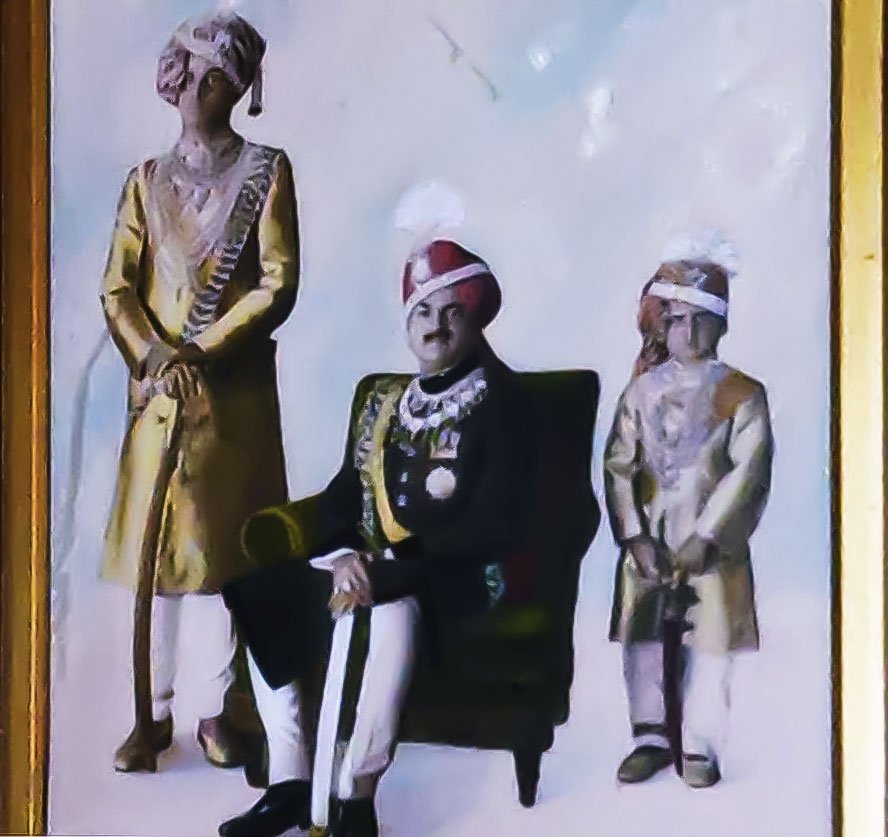 My grandfather HH Maharaja Sir Brijnathsingh ju deo was a gifted musician himself having a passion for music. The Maharaja was in search of an outstanding musician to teach him and his musicians. In 1918 he brought Allaudin Khan from Rampur and thus established the Maihar Senia gharana of Music.
Musicians Belonging to the Maihar Gharana
Prominent musicians belonging to the Maihar gharana include prominent sitar players Ravi Shankar, Nikhil Banerjee, Allauddin Khan's son sarod player Ali Akbar Khan, daughter Annapurna Devi and and grandsons Aashish Khan, Dhyanesh Khan, Pranesh Khan, Rajesh Ali khan, Alam Khan, Manik Khan and Shriraz Ali Khan.
Maharaja Gobind Singh Ju Deo
I still remember the December of 1975 I was practicing raag Kafi with my tutor Shri David sahebji in my father's ( Maharaja Gobind Singh Ju Deo)private chamber, without realising that my father and Ali Akbar Khan saheb were hearing me from outside. Once I finished, they both walked in and I started to cry suddenly, I saw the joy in my fathers eyes and of course I was delighted.
Our childhood in Maihar was defined by a strict routine. Mornings were spent learning scriptures, Sanskrit was given special importance. My grandmother hailing from Semliya was a very pious and spiritual lady, she would often read the Ramayan to us. It was under her influence that I became a vegetarian.
Our evenings were special since both my parents were fond of music we would all gather in the Durbar hall where the Maihar band played all evening and the entire atmosphere was vibrant and yet enchanting – it was a joy for all of us. Even to this day I miss those splendid evenings with the band playing for us.
Festivals like Dussehra, Holi and Eid were celebrated with great enthusiasm. Perhaps the most impressive was Dussehra. A huge Ravan was built in the open maidan, which was full of people. My father lead the ceremonies and then the much awaited event was the lighting of the Ravan which was always done by my father. This was followed by cheers and loud cries of joy.
Whenever I reflect back on my life in Maihar, it gives me a great sense of being blessed. This upbringing has helped and groomed me in a very special way leaving me with joy and content.