Mud house, as pretty as it sound, it is the only Natural shelter a human can make without harming the environment. A simple house build predominantly of mud carries tons of advantages within which is still unknown by many.
The idea of mud house is not something new or innovative but it has been in India from an ancient time. People have been building such houses for thousands of years. It may sound a little surprising but In India there are almost 65 millions mud houses.
These small eco friendly hut like houses are also very famous in some parts of Rajasthan. Due to its plenty of benefits these ancient houses stand still in many villages.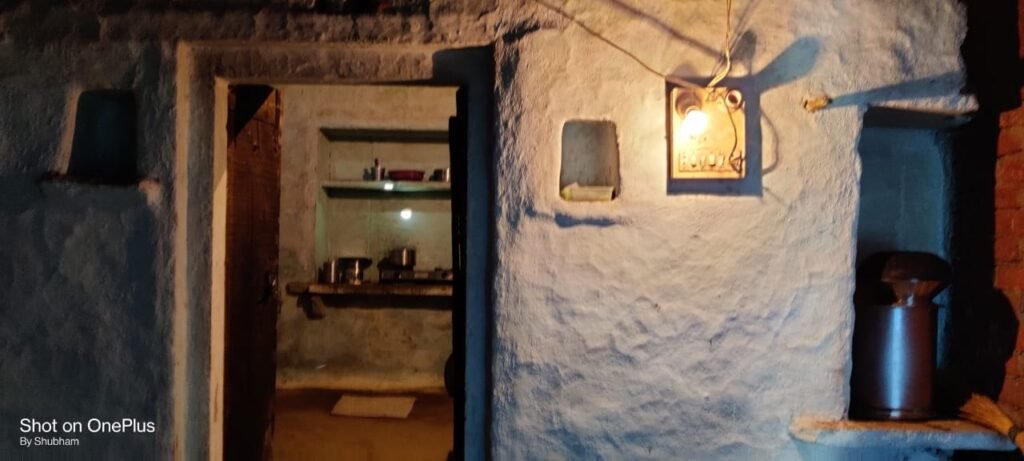 One such example is from a village of Nimbhera, Rajasthan. This simple and delicate mud house is about 70-80 years old. It has been home to a family for many generations and is still standing strong.
This house is nothing less than a heaven on Earth. Surrounded with the paste of mitti and cow dung (Gobad) with a wooden roof, this mud house is very beneficial for our health.
This house is made from the mixture of mud and cow dung and is also a great storage area for rice, wheat and pulses. This house remains warm in winter and cool in summer which is a very favourable environment in a place like Rajasthan.
There is no doubt that these mud houses are eco friendly but this is not it, they offers more such advantages which makes them one of the significant housing option.
Mud houses are very cost effective, strong and disaster resistant and can stand still for hundred of years if protected well enough. They have also good resistance to fire which is a great thing.
These Earthy houses are also naturally insulated thus providing thermal comfort inside the house. Now, who need ACs when you can keep yourself cool around mud walls. As these walls lower the temperature during summertime it cools down the environment and during winters it keeps you warm like a blanket.
Other than that, mud walls are good for sound proofing. One of the exceptional benefit is that they are recyclable and biodegradable, you can break it down anytime and rebuilt it too without harming the environment.
These mud houses are found everywhere in Rajasthan's Barmer district. After the devastating flood of 2006, a Delhi-based non-profit organisation Sustainable Environment and Ecological Development Society (SEEDS) built these eco friendly houses for people who lost their houses in disaster.
Even with new innovations and technology nothing can ever beat the potential of Mud houses.