Hansaji Jayadeva Yogendra has been in forefront of The yoga movement in the last four decades, as a teacher, teacher-educator, an excellent communicator in the Television medium, and as an author of several books on Yoga. She lends a patient ear to anyone who takes his/her problem to her and provides an insight which helps the person to get a grip and find a satisfactory solution. Thus she is a caring counsellor too.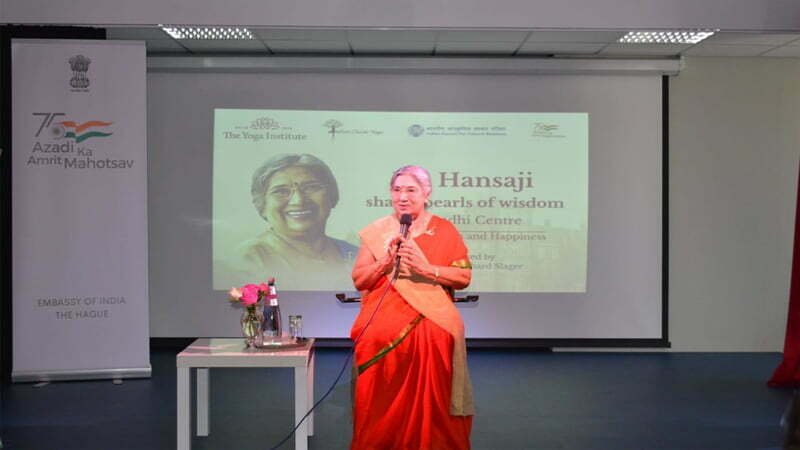 She brings a special energy wherever she goes and is a popular orator throughout the country. She has authored several Yoga books in English and Gujarati. The television serial, 'Yoga for Better Living' has been aired three times on the National network and is very well appreciated. She, together with her illustrious husband has travelled widely and shares her knowledge with all selflessly and with grace. At present, she is the President of International Board of Yoga.
On 28th august,An insightful & interactive talk on Health & Happiness was given by Dr. Hansa Yogendra, at The Gandhi Centre under Azhadi Ka Amrit Mahotsav series. Dr. Hansa was felicitated by Director of the Gandhi Centre. More than 50 persons participated.
The official journey of Azadi ka Amrit Mahotsav started on 12th March 2021 with a 75-week countdown to our 75th anniversary of ndependence and will end post a year on 15th August 2023.
The Azadi ka Amrit Mahotsav is being celebrated worldwide in all continents of the globe!