The pursuit of perfection is something that has long been ingrained in our society, with standards and expectations often placed on women to achieve an ideal state. However, the concept of perfection can differ greatly depending on one's perspective and experiences. Recognizing this, Team Saksham Sanchar and Team Sapiens, two prominent organizations, brought a power brunch at the Hilton Hotel Jaipur, bringing successful women together from various backgrounds and professions to engage in a round table discussion on their take and diverse definitions of perfection.
The round table discussion on women's take on perfection at the power brunch was indeed a thought-provoking and empowering event. It highlighted the diverse definitions of perfection. This brunch provided an opportunity for the women to support and uplift each other and to celebrate their achievements and successes. The event was graced by the presence of esteemed guests, Mayor Saumya Gurjar and Mrs. Himanshi Gehlot, who shared their insights on the topic, "Why there are exceptions to be a perfect women."
Ajay Aswal (RAS) and Archana Sharma( IANS Journalist) started the conversation by welcoming the guests. Aswal from Team Sapiens then started asking questions to the women present in the programme.
Firstly Mayor Saumya Gurjar shared her journey and challenges as a female leader in the field. She highlighted how societal norms and expectations often put immense pressure on women to be perfect in multiple roles they play, whether it's as a professional, wife, mother, or daughter. She emphasized that perfection should not be measured by external standards, but rather by one's personal growth and progress. Mayor Gurjar's inspiring words resonated with the ladies and set the tone for the rest of the discussion.
Her poetic ode for women was-
जीवन के इस रण में तुमको
विश्वास अटल रखना होगा
100 बार गिरो ​​​​फिर भी उठाना
नक्षभेद तभी होगा
है अग्निपथ सा ये जीवन
तू निर्भीक निडर होकर इसपर चल
चरण पखरेगी मंज़िल
निश्चित होगी तेरी जीत
परचम तू ही लहरेगी
हो एकाग्र बस चलती चल
Mrs. Himanshi Gehlot, a successful social activist, also shared her thoughts on perfection. She emphasized that perfection is a subjective and ever-changing concept, and it's important for women to define their own version of perfection rather than conforming to societal expectations. She encouraged women to embrace their flaws and imperfections, as they are what make each woman unique.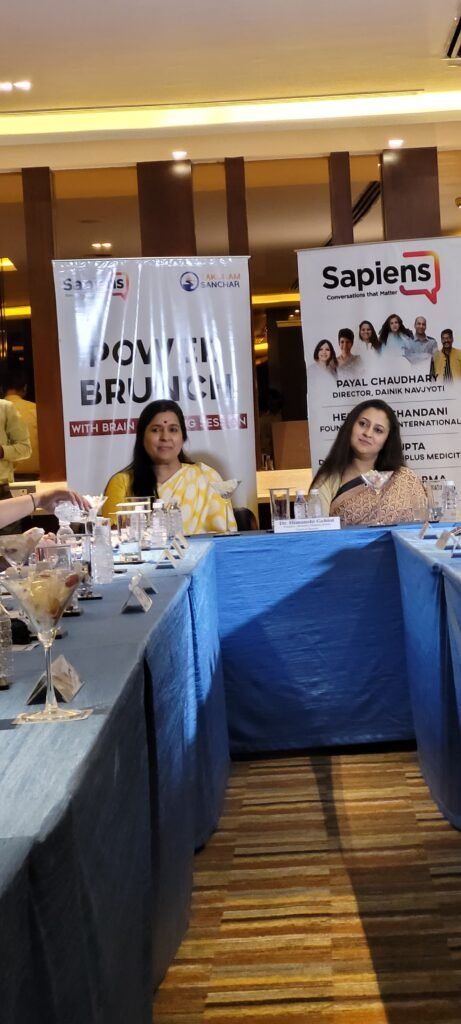 The discussion then opened up to the other businesswomen who were part of the conversation. They shared their diverse perspectives on perfection based on their personal and professional experiences. According to Shalini rajvansi ( CA) "Perfection is the flawless state of mind."She said when every everything feels exactly right then that is perfection for me. Neha Gupta,(director, Mangalam Plus Medicity),Sunita Sharma(founder, auma foundation), Hema (director Canvas Internatiinal) highlighted the pressure to meet societal beauty standards, while Vineeta Somani (founder), Attila discussed the challenges of balancing work and personal life.
Other Inspiring ladies shared stories of overcoming obstacles to pursue their passion and define their own version of perfection.The round table discussion delved into various aspects where Anubha Gupta (autopal) Anchal Gupta( brand balance) , Yogacharya Divyadhara Hemlata Sharma, Krishna Priya Harsh( Anchor/Blogger) shared the importance of self-care and self-acceptance. These women spoke passionately about breaking free from the shackles of perfection and embracing their uniqueness, flaws, and imperfections. They emphasized the need to redefine perfection on their own terms, without succumbing to societal pressures or stereotypes.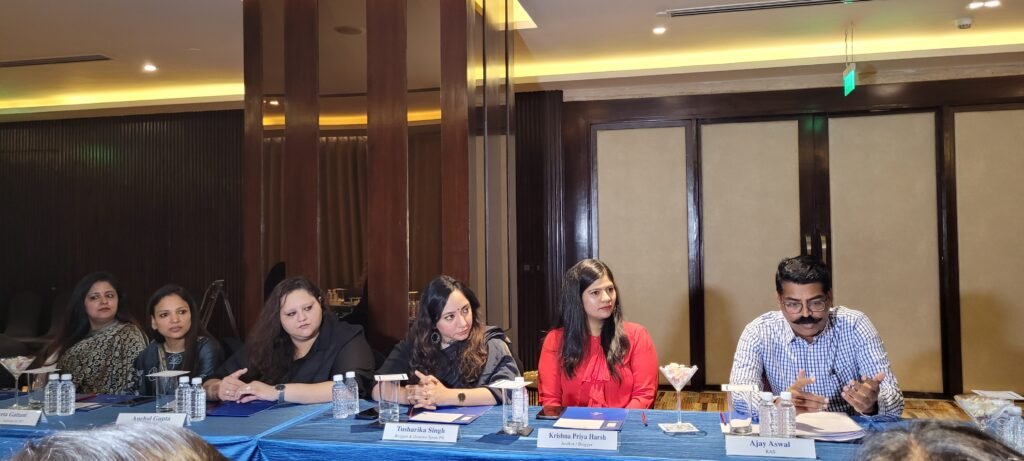 The event fostered a sense of solidarity, with the women expressing their admiration and respect for each other's journeys.The organizers, Team Saksham Sanchar and Team Sapiens, were thrilled with the success of the power brunch. They expressed their gratitude to the esteemed guests, Mayor Saumya Gurjar and Mrs. Himanshi Gehlot, for their valuable insights and inspiring words by presenting green pot to them. They also thanked all the businesswomen who participated in the discussion and shared their perspectives on perfection.