The Hague (Pranita Deshpande) : Yoga is an ancient Indian practice that helps to boost one's mental and social well-being. The word 'yoga' is derived from the Sanskrit root 'Yuj' which symbolises the union of body and consciousness.
During the COVID-19 pandemic, when several restrictions on the movement of people were imposed, in these tough times, many found physical and mental relaxation through yoga.
The idea of International Yoga Day was conceived by Prime Minister Narendra Modi, who proposed the concept on September 27, 2014, during his speech at the UN General Assembly.
The draft resolution passed by India was supported by 177 nations. Recognizing its universal appeal and growing popularity, the United Nations proclaimed 21 June as the International Day of Yoga on December 11, 2014. Consequently, the first International Yoga Day was observed on June 21, 2015.
Indian Embassy in The Hague,Netherlands organized a yoga program ahead of the International Yoga Day 2022 organized on Sunday.
Large number of yoga enthusiasts participated in a yoga session organized by the Indian Embassy at the prestigious Atrium City Hall The Hague.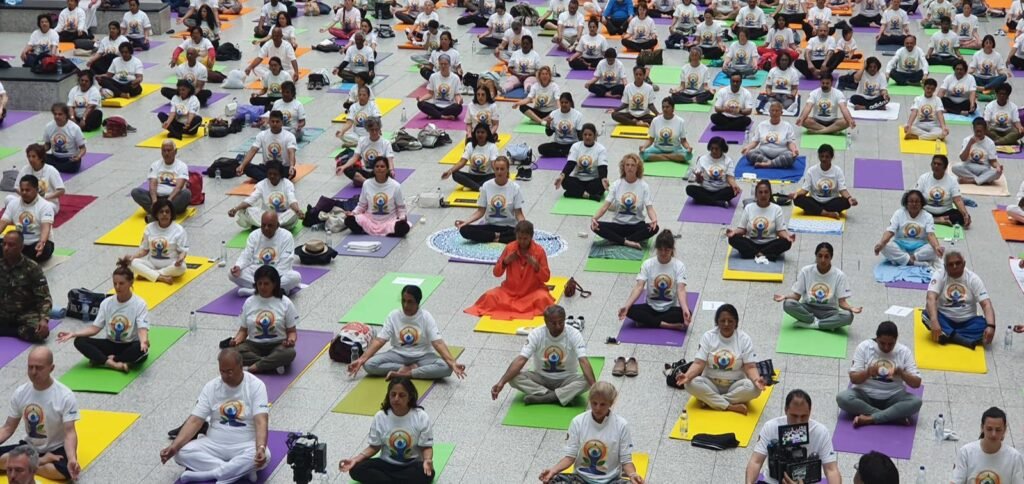 People from different areas including the Dutch armed forces, Yoga enthusiasts, Around 10 yoga schools & institutes in The Hague and the City of Hague partnered with the Embassy in organizing a successful #IDY2022 event.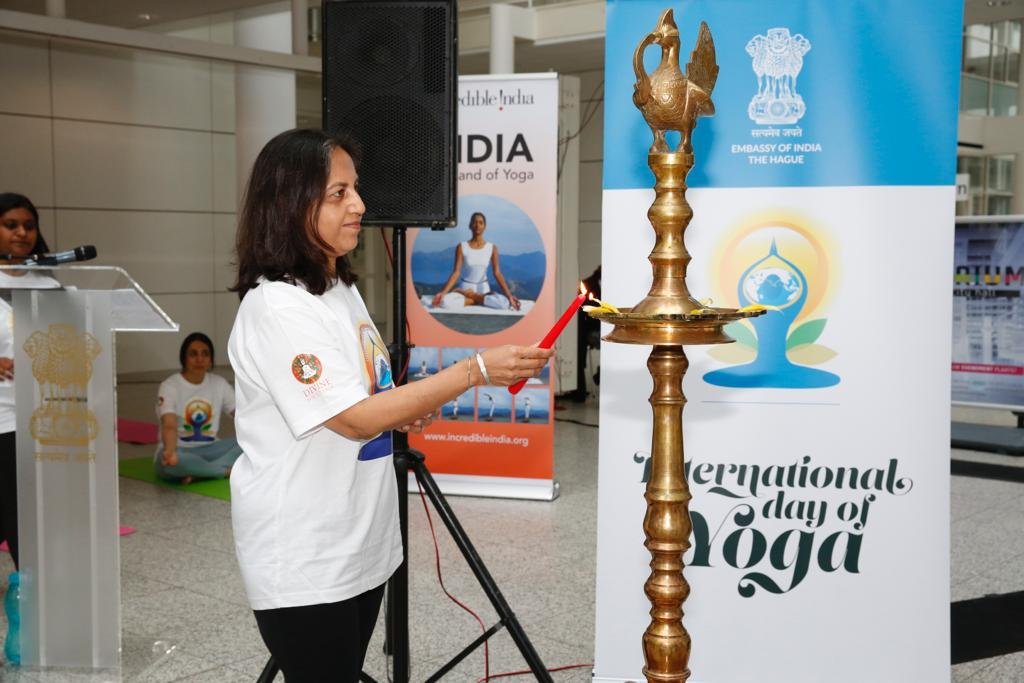 Her excellency Ambassador Reenat Sandhu welcomes the yoga enthusiasts participating in the International Yoga Day celebrations at Atrium City Hall in The Hague .
Ambassador together with Dutch dignitaries inaugurated the International Yoga Day celebrations with the lighting of the lamp at Atrium City Hall The Hague.
A general yoga protocol session was conducted as part of the ceremony, which was enthusiastically attended by the attendees.