Gita Contest competition was organised under the aegis of Hare Krishna Movement Rajasthan across the country on Sunday in which thousands of students participated with enthusiasm.
Results will be announced in the first week of June and prize distribution will be given to the winners on the basis of category on June 26, said Siddha Swaroop Dasa.
"Geeta Contest Senior Category First prize winner will get ₹ 25,000/-, second prize Geeta Bhushan will be given ₹ 11000/-, third prize Geeta will be worth ₹ 11000.
Along with this, special attractive trophies and certificates will be given to winners.
Consolation prize worth Rs 1100 will be given to the contestants who come in the top 10 ranks in the contest.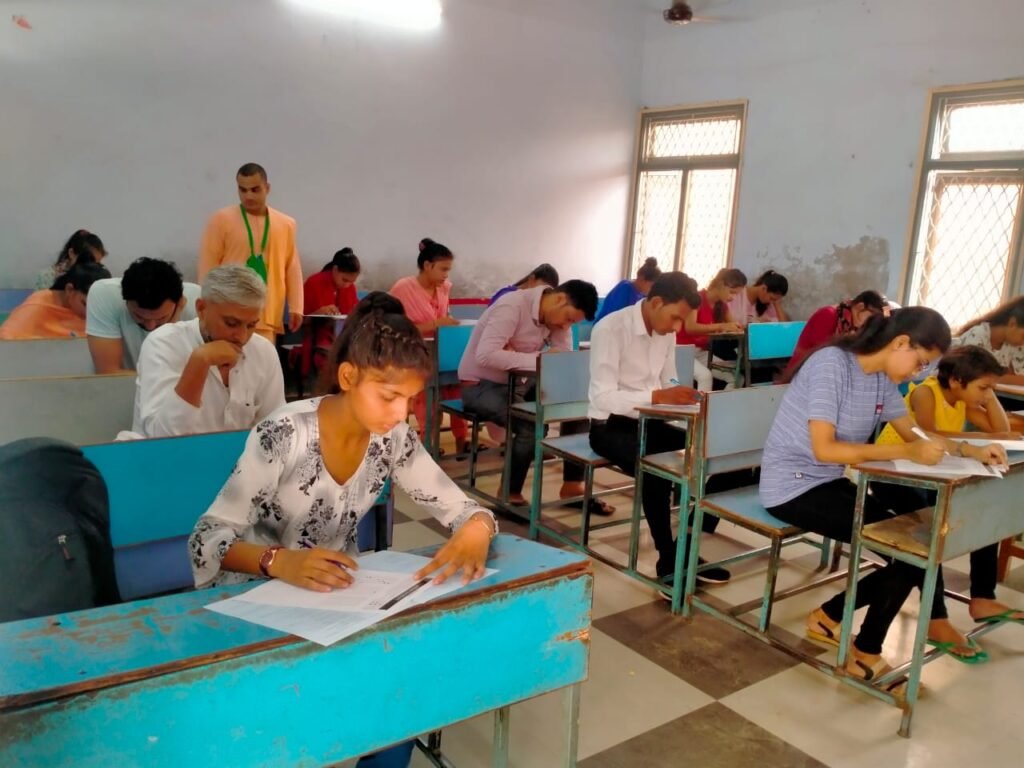 Examinees share their experience
Rajveer Singh, Senior Software Engineer in the country's reputed software company said that there is a lot to learn in Gita. It is also a better opportunity for us to take the exam. The solution to every first and foremost problem of life is given in Gita.
Neeta, who was working in Mahatma Gandhi Medical College and Hospital, came to take the exam with full preparation. She told that because of the Gita contest, she was able to study the Bhagavad Gita and understand the importance of life.
Anurag Sharma of Jaipur is studying law from Udaipur. He is appearing for Gita exam because he is interested in Vedic literature. I had heard about reading Bhagvad Gita from many big names, but due to lack of time or some constraints, I could not read it, but now I have got a chance to read it.
Komal Sharma from Jaipur participated in the Geeta contest online, said that many concepts have become clear after reading the Gita.
During the launch of Gita Contest, Secretary of Aksendra Welfare Society Narendra Rawat and Convenor of the competition Siddha Swaroop Das were present.
Rawat said that Gita is the practical side of life, without the knowledge of Gita, life is incomplete, today Gita is very important for the student.
Some questions asked in Gita contest
According to Srimad Bhagavatam, what is the sequence for realization of the Absolute Truth? What is considered the biggest violation of divine law? What is the meaning of the word 'Aham Brahma Asmi'? Who takes a man on the new path of life at the time of death? Why was the knowledge of Bhagavad Gita given to Arjuna?