By Harsh Vardhan : World's second largest military music school is located at Pachmarhi in Madhya Pradesh, which remains the pride of India for past 70 years.
This institution has turned out more than 10,000 music-soldiers in India ad the day-long training sessions for new recruits continue till date.
You need to apply brake to listen to their notes.
Located amidst the hill station, the Satpura hills reverberate with the melodious notes. Surprisingly, the commanders are often men who never passed out of military academy. By dint of musical instincts, they entered to become director at this School. Wow!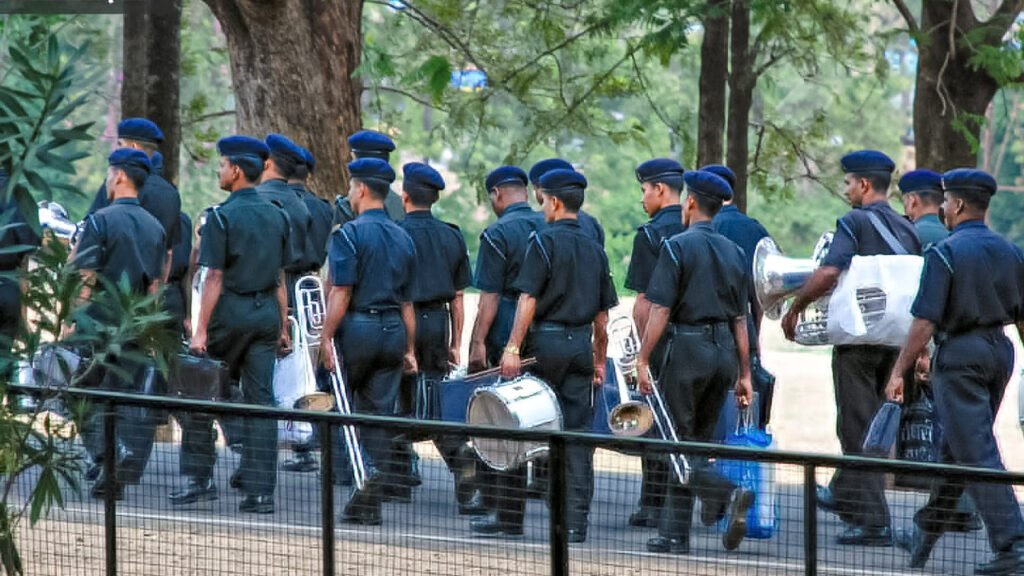 They have yielded intense pride to the nation by Indianizing marching tunes like: General Thimaya (bagpipe and drums), Cariappa march (brass band) in which flute dominates and drum beats are mallow, Almora March (bagpipe and drums) and Sam Bahadur (brass band), a marching tune released in 1970.
Rule says: a band master will have 33 musicians. L.B. Gurung is described as having contributed a lot to creation of new tunes, based on Indian folk appeal.
Kadam kadam badhaye ja, Sare jahan se achha, Hanste Lushai, the list is endless, portraying sentiments of people from all corners, Tamil Nadu to Ladakh and Kutch to Nagaland.
Yet certain overseas tunes continue to dominate. Like Abide With Me (By Henry Francis Lyte and composed by William Henry Monk): "Abide with me, fast falls the eventide; The darkness deepens Lord, with me abide; When other helpers fail and comforts flee; Help of the helpless, oh, abide with me…"
Need to visit Edinburgh Festival (August) and be regaled by the Tattoo Show, performed in original Highland costumes by armed units. They march through the Mile, main street, to offer free music to Scots. A fortnight long regalia on cobbled streets. Or you visit Udaipur and make a request to the Mewar Custodian, Shriji Arvind Singh if he can let you enjoy his Palace Band. Salutation to our armed personnel. And au revoir.
Music the ultimate healer!
What entertainment for armed forces posted at odd corners, snow-covered heights or swampy areas or desert roughs? Their own martial bands play notes to keep them in good humour. The bugle-call has been a command to all ranks. India received such drills from the overseas armed units and gelled well. Most tunes have been handed over to the Indian Army by the British Army: Highland Laddie, Fanfare, Herana Herana, and a score of them that provide soldiers-officers what they need: relief from routine. Music the ultimate healer!

Please see: The feature image portrays 'Rajputana Rifles band with President Ram Nath Kovid'.