Prasoon Joshi has been an acclaimed lyricist, poet, writer, screenwriter, ad man and CBFC chairperson. Let's find out his inspirational story on his 50th birthday…
The divine lyricist Prasoon Joshi, born on 16th September, 1971, is not just an excellent lyricist but and is a poet, a writer, screenwriter and communication specialist and a marketer too. He has been appointed as chairperson of the central board of film certification in 2017 after giving excellent performance in his diverse fields.
Prasoon Joshi debut as lyricist
Prasoon made his debut in writing lyrics with the movie Lajja which turned out to be a successful movie. And soon after that he got many more offers from Hit movies likhe Hum Tum, Rang De Basanti, Fana, Bhaag Milkha Bhaag and many more.
Prasoon Joshi awards
His astonishing talent as a lyricist has led him to a very successful life. He was awarded with Padma Shree ( 4th highest civilian award in India) in 2015.
He was further awarded with best lyricist award at Filmfare in 2007, 2008 and 2014 and the National Film Award for best lyrics in 2007 and 2013.
Prasoon has given some best songs that are being loved by the audience. His lyrics are very thoughtful, simple yet carrying some very deep meaning inside it. Either its love song or a song about patriotism, it seems like he creates some wizardry. The way he writes lyrics, it creates a beautiful bond between the subject which the song is portraying and the audience at an emotional level. This is the reason why majority of his songs seem evergreen.
Prasoon Joshi songs
Some of his artistically amazing lyrics and songs that he has gifted this world for expressing their love or for showing their patriotism:
1) The whole discography of the movie Fanna will make you fall in love with love.
Songs like Chand Sifarish , Mere haath mein and dekho na, will bewitch you.
"Hain jo iraade bata doon tumko
Sharma hi jaaogi tum
Dhadkanein jo suna doon tumko
Ghabra hi jaaogi tum
Humko aata nahi hai chhupana
Hona hai tujhmein fanaa"
The movie also has one of the most Iconic song " Desh Rangila" which is still played in every schools and colleges National Day functions.
"Yahaan Har Kadam Kadam Pe Dharti Badle Rang
Yahaan Ki Boli Mein Rangoli Saat Rang
Dhaani Pagdi Pehne Mausam Hain
Neeli Chaadar Taane Ambar Hain
Nadi Sunehri Hara Samundar Hain Re Sajila
Des Rangila Rangila Des Mera Rangila"
2) The songs of movie Hum Tum which was released in 2002 still gives us those first love vibes.
The song 'Ladki Kyon' was a very Iconic song which is still relatable for boys , the lyrics was so beautifully written that how boys thinks that girls are so complicated and they find it very difficult to understand them but still cannot live without girls , this song still gives us a sweet vibe of love in bittersweet relationship when we start falling for our best friend.
While the lyrics of song Hum Tum are so mesmerizing and meaningful.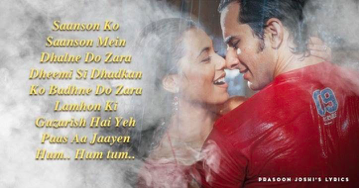 3) Parsoon's lyricism in the movie Gajini is yet another one of the masterpiece of his works.