Rajasthani handicrafts and handloom are known all across the world for their distinguished style and enchanting look.
Here are some of the handmade articles one can shop for in Jaipur.
Blue Pottery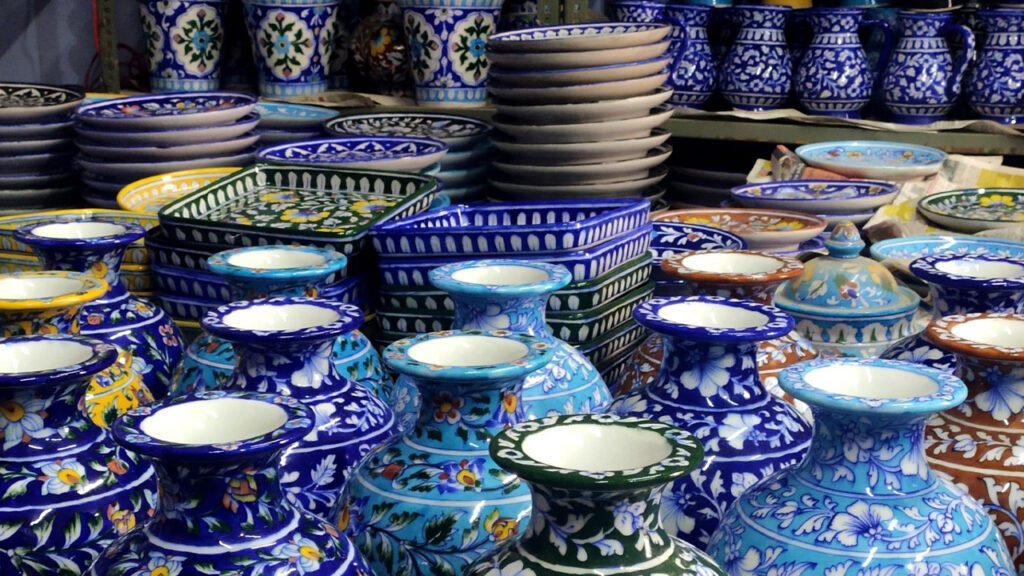 Blue pottery came to Jaipur from Persia and Afghanistan and its art form was introduced in Jaipur by the Mughals. In this style, objects are made from quartz. Materials used for blue pottery are raw glaze, sodium sulphate, and multani mitti (fuller's earth). The attractive shades of blue and turquoise are obtained by using copper oxide and cobalt oxide..
Leather Craft: You can buy exquisite leather articles including jutis and mojaris (types of traditional shoes), chairs, musical instruments, clothes, footwear, caps, saddles, armour, bags etc being made by the skilled craftsmen of Rajasthan.
Jewellery
Jaipur is a hotspot for kundan jewellery and has a history of jewellery with precious gems that can be traced back to more than two and a half centuries. Apart from kundan, Jaipur is known for the manufacture of specialised jewellery such as Minakari and processing of coloured gems. Moreover, it is a global centre of cut and polished emeralds. One can also shop for coloured gems, silver and pearls here.
Leheriya And Bandhej: The traditional tie-and-dye fabrics like leheriya and bandhej have created a style statement across the globe. Designed by tying fabrics and then dying them is a resist-dye method, the leheriya and bandhni are iconic among Rajasthan's traditional crafts. Bandhej designs are floral and geometric but leheriya fabrics have diagonal lines that look like waves. The colours that are mostly used in this technique are red, yellow, blue, black and green.