The Rajasthan government's Department of Science and Technology organised a special event under 'Astro Night Sky Tourism', in which sky-gazing enthusiasts watched the partial solar eclipse on Tuesday using glasses in the presence of experts, said Kailash Mishra, curator, Science Park.
The programme was organised free of cost for those interested in astro-science, said Mishra.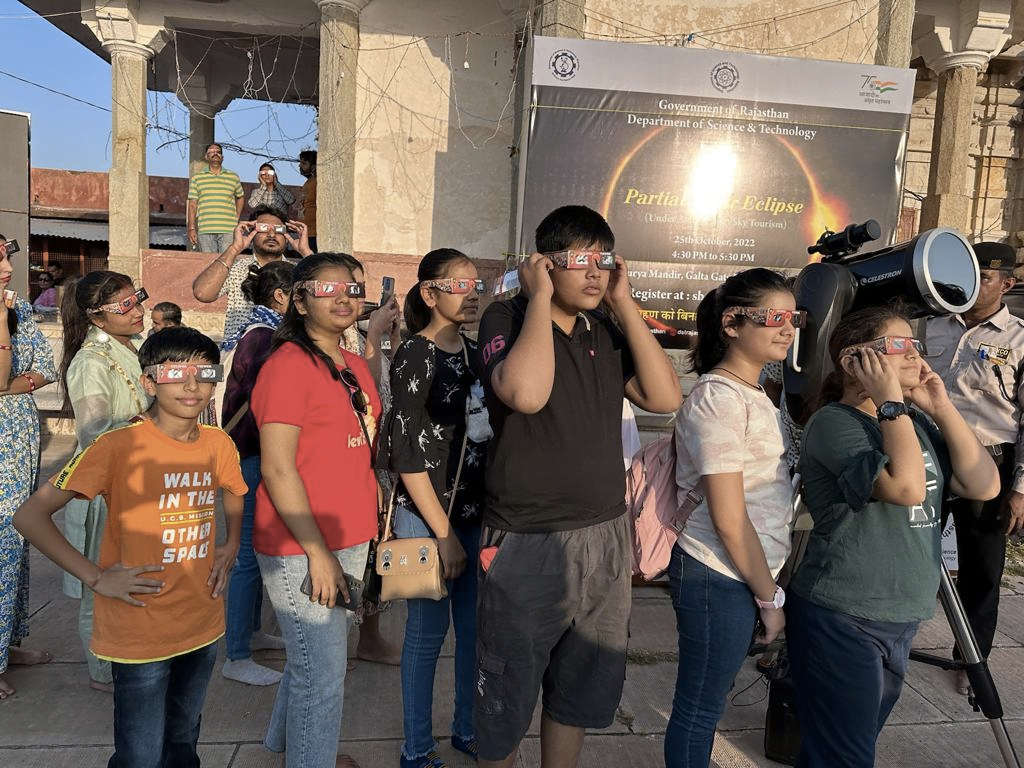 The event was held at the Surya Mandir, Galta Gate hilltop from 4.30 p.m. to 5.30 p.m.
Mishra said: "A google link form was released for those interested. Many students filled in the form and participated in the event. There were experts present on this occasion to demonstrate and guide the sky gazers to use technology while watching the eclipse," he added.
The partial Solar Eclipse was seen on October 25 in Indian cities which will last 1 hour and 45 minutes.
The eclipse was visible for the longest period in Gujarat's Dwarka and for the shortest time in West Bengal's Kolkata for only 12 minutes.
A few other cities to see solar eclipse for longer than an hour were New Delhi, Mumbai, Ahmedabad, Surat, Pune, Jaipur, Indore, Thane, Bhopal, Ludhiana, Agra, Chandigarh, Ujjain, Mathura, Porbandar, Gandhinagar, Silvasa, Surat, and Panaji.
The states where the eclipse will be visible for less than an hour are Hyderabad, Bengaluru, Chennai, Lucknow, Kanpur, Nagpur, Visakhapatnam, Patna, Mangaluru, Coimbatore, Ooty, Varanasi, and Thiruvananthapuram.
However, the eclipse was not visible from Aizawl, Dibrugarh, Imphal, Itanagar, Kohima, Silchar, and Andaman & Nicobar Island.