Bullet Baba Temple is situated in Pali district of Rajasthan. The temple is associated with many mysteries. People from far off areas visit here and offer their prayers. The special thing about the temple here is that there is no idol but Bike is worshipped here, which is also called Bullet Baba. This temple is known as Om Banna Temple.
Bullet No.
Bullet 350 is located in the temple of Bullet Baba, whose number is RNJ 7773.
Wine offered –
Devotees who come here offer flowers, mala, prasad besides liquor.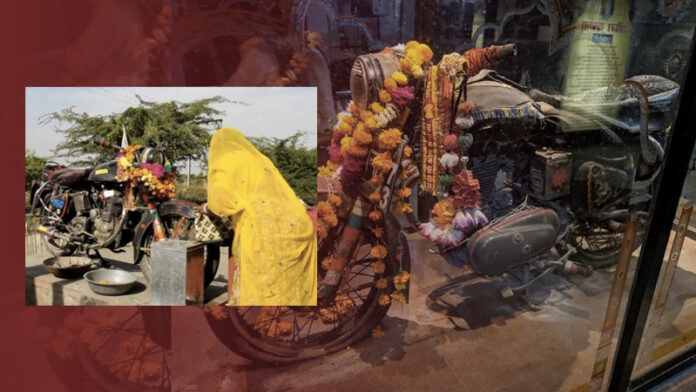 Recognition –
Here it is believed that if those passing through here stop and pray in this temple, then their journey is pleasant and auspicious. And it is also believed that if you go straight without stopping in this temple, then an accident can happen to you.
Where is the temple
20 KM from Pali on Jodhpur-Ahmedabad National Highway.
Who is Om Banna? History of Om Banna
Om Bana (Om Singh Rathod) was the son of Thakur Jog Singh ji Rathod of Chotila Chotila village located near Pali town. In 1988, when he was returning to his in-laws' house, he collided with a tree. Om Banna was killed in that accident. After the accident, when the police took Om Banna's bullet to the police station, the bullet disappeared from the police station. Even after being brought to the police station several times, the motorcycle would disappear from the police station in the night and reach the accident spot on its own. After this miracle, Om Bana' bike was kept at the place of accident. After which its recognition increased among the people and its workship started.
Local people believe that earlier there used to be a lot of accidents here, but after the construction of the Om Bana temple, the accidents came down.