Giethoorn a beautiful town in the province of Overijssel, where you can only reach by boat or foot. Popularly known as  "Dutch Venice" or  "Venice of the Netherlands" , it is very admired as a tourist destination all over the world. Let's know a little more about this place…
Giethoorn a very quiet, peaceful and beautiful destination that seems surreal. A town where there are just few roadways but is full of canals and bridges, it has more than 180 bridges and is surrounded by old but pretty thatched-roof farmhouses. If you are travelling in Amsterdam you can visit this beautiful town which is just an hour and a half drive from Amsterdam. A naturally breathtaking place where you don't need to walk much or travel by vehicles, but a place where people uses boats to travel.
Giethroon has not more than a population of 3000, according to a report of 2020 it has a population of 2,795. Tourism plays a vital role in this town, where tourist are attracted with the fact that the town in only accessible by boat, and there are no roads. But there are small footpaths beside the canal that are made for cycling and walking. There are many cafes and restaurants on each sides of the canals, people often rent bikes or botes to roam around the town.
 Giethoorn Netherlands : History
Giethoorn a name that originates from the first inhabitants' discovery of hundreds of goat horns (gietehorens) in the marshland, a surviving group of a 10th-century flood. The lakes in Giethoorn were formed by peat digging. Giethoorn was not much popular before 1958, but in 1958 after Dutch film maker Bert Haanstra made his famous comedy Fanfare, Giethoorn became locally famous in Netherlands and later in abroad too.
Giethroon Netherlands : Things to do
Boating
Giethroon known for being at the center of the canal system, is almost dependent on its waterways, where you can reach mostly all the places by water. Boating plays a very important role in this town, not just as a medium of travelling but it is something that attracts tourists, with 90km of canoe trails. If you are visiting Giethroon book a boating ride to have a beautiful view of the whole town.
Canoe tours
If you know how to ride a canoe, this is the best exciting option for you. Rent a canoe and enjoy the scenery with your canoe.
Rent a bike or a Solex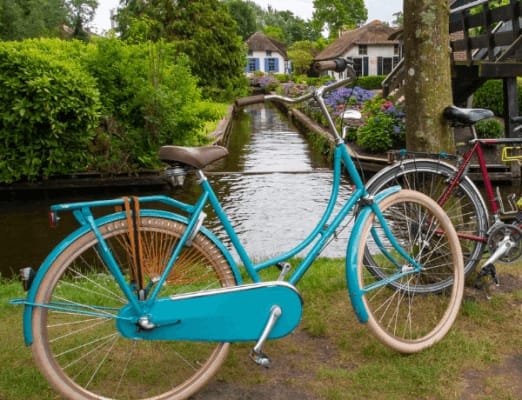 There are narrow footpaths which were made ideal for walking, cycling. If you want to have a solo peaceful walk or cycle ride, make sure to rent a bike or a solex. You can roam around with your bikes in a natural charming scene, which seems to be like a painting. By cycling, you will be able to explore the Dutch Countryside with farm animals and endless fields. A bike ride is a must in this beautiful town.
Book a canal cruise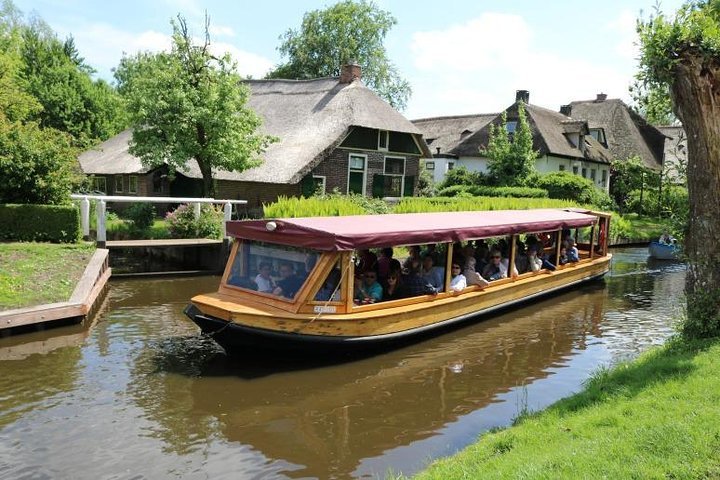 Giethoorn tourism offers a pretty canal cruise tour to the visitors, to explore this astonishing place. This a the best option for tourists to book a canal cruise, which will show you all the important places of the village.
Giethoorn is a place to visit once in your lifetime at least, it also has a lot of games and tours activities to enjoy your experience to the fullest. From seeing the thatched farms on the many peat islands, to taking a boat trip on the canals while enjoying delicious lunch or dinner at one of the many tasteful restaurants by the water's edge, this town has it all.