Can you believe a school dropout who is class VIII pass out has created jobs for 22,000 rural women in Rajasthan that too right in their house to ensure they don't have to go out leaving their house and family?
This might sound unbelievable but is true and the woman scripting this success story is Ruma Devi, a resident of Barmer who has earned laurels for being a fashionista with world renowned designers being her clients.
Ruma takes all efforts of visiting her employees' houses to drop raw materials at their place. These women then produce the best of the designs in terms of artistry which are being sold to International designers.
Doesn't this make an inspiring story?
It definitely does with the story accommodating many other interesting angles.
Ruma has seen the harshest challenges in her life and despite that she managed to smash all set traditions; she has set live examples of women empowerment and has created jobs for thousands of women.
Her strong client list includes renowned names such as Anita Dongre, Abrahim Thakore, Bibi Russell and many from US too.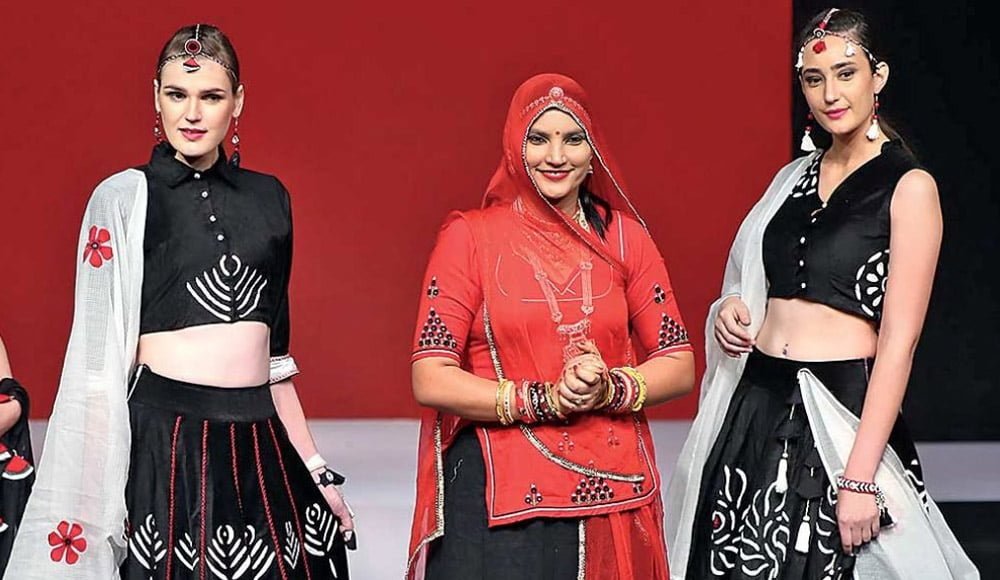 Ruma suffered all odds, she was born in a financially weak family, her mother passed away when she was just five, her father re-married and then started Ruma's real struggle—her name was dropped from school when she reached class VIII.
Each day, she was asked to travel around 10 km to fetch water and engage in household chores. At 17, her family got her married to other family where poverty was her companion.
Fed up of financial crisis, she stood out for herself and created a group of 10 women and collected Rs 100 each from them to buy raw material to design hand embroidered bags.
"The bags were really beautiful and hence were sold like hot cakes when we went to market to sell them. Then we formed further groups and started selling our bags in nearby villages too. Much to our surprise, the result was fabulous," she says adding that with this initiative, "I was trying to set new traditions by using the art (embroidery) my grandmother taught me years back when I was a kid."
Her fame spread soon in and around and then Grameen Vikaas and Chetna Sansthan in Barmer made her its member in 2008. In 2010, she was appointed as the president of this organisation.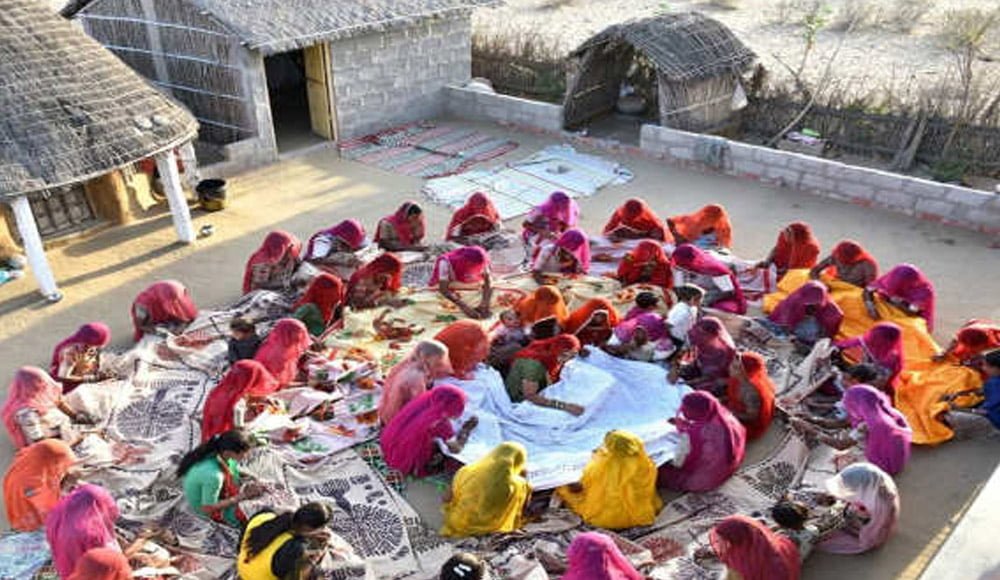 "Again we started to break the traditions. Hence we started participating in exhibitions where we started showcasing our work which created more demand for our products.
"Presently, around 22,000 women are working with us who belong to different age groups from 17 to 70. The young girls working with us have dreams sparkling in their eyes to do something different, although in a veiled world as earlier they had no scope here except to marry and depend on husband and in-laws for all their needs."
In fact, I had also started working with a ghoonghat. We used to travel miles in veil, face hidden under our chunri. However, complaints started coming in as mistakes happened when we used to put a delicate stitch. At this point of time, my family permitted me to come out of ghoonghat and put a little veil on head. When I was permitted, my girls followed me and now ghoonghat is a bygone era from our lives.
Ruma Devi and her team members work hard—even under scorching sun with 50 degree of temperature. The earnest designs with delicate and beautiful stitch bespeaks how we have put our heart and soul in it. Also we trudge several kilometres to fetch water and do our household chores. Besides, we walk many kilometres to supply raw materials to the house of our women teams. The houses are quite far in Barmer separated with many sand dunes. So life is not easy for us, she says smilingly as if to show it's just a minute challenge for us as we have bigger goals.
At times, we lack sufficient place for dyeing process as well, she adds.
Now, Ruma, the woman of substance, has yet bigger plans to launch her own brand.
Ruma was recently awarded in TFI and was awarded with a Paris trip so that she can learn the best from the world"s most fashion-friendly city. However, this designer presently wants to get the best from rural rustic lanes of her home town which has brought her to this level.
"They are interested in sending me to Paris, however, there is much in my list to do; so shall go a little later," she says.
Due to her grit persistence and dedication for women empowerment, Ruma was also awarded with the biggest award for women, 'Nari Shakti Award' by President Ram Govind in 2018. This award has been bestowed on only 41 women of the nation till date.