The Padma Awards are announced every year as one of the highest civilian honors of India. The award is categoriesed as- Padma Vibhushan (for exceptional and distinguished service), Padma Bhushan (distinguished service of higher order) and Padma Shri (distinguished service).
The Padma Awards were presented by President Ram Nath Kovind today in Rashtrapati Bhawan. A total of 119 Padma Awards were presented this year.
Let's take a look at list of awardees from Rajasthan this year:
This year four people from Rajasthan were honored with Padma Shri the fourth highest civilian award for their excellent contribution in their respective fields.
Munna Master
Ramzan Khan popularly known as Munna Master is a popular Bhajan Singer from Bagru, Jaipur is honored with Padma Shri for his excellent contribution in the field of singing Bhajans.
Munna Master was nominated back in 2020 as an awardee for Padma Shri but due to corona crisis the event was not held by the government of India.
Munna Master is doing cow service from past 15 years but he came into limelight in 2019 for his devotion to Kishanbhakti and devotion to cow service after a controversy broke over the appointment of his son Firoz Khan as an assistant professor in Sanskrit subject of Banaras Hindu University.
Munna Master went to Delhi with his wife and son from Bagru on Sunday to receive the award in Rastrapati Bhawan today. He thanked government of India for recognizing talents of people who are from backward areas and are not very famous.
Shyam Sundar Paliwal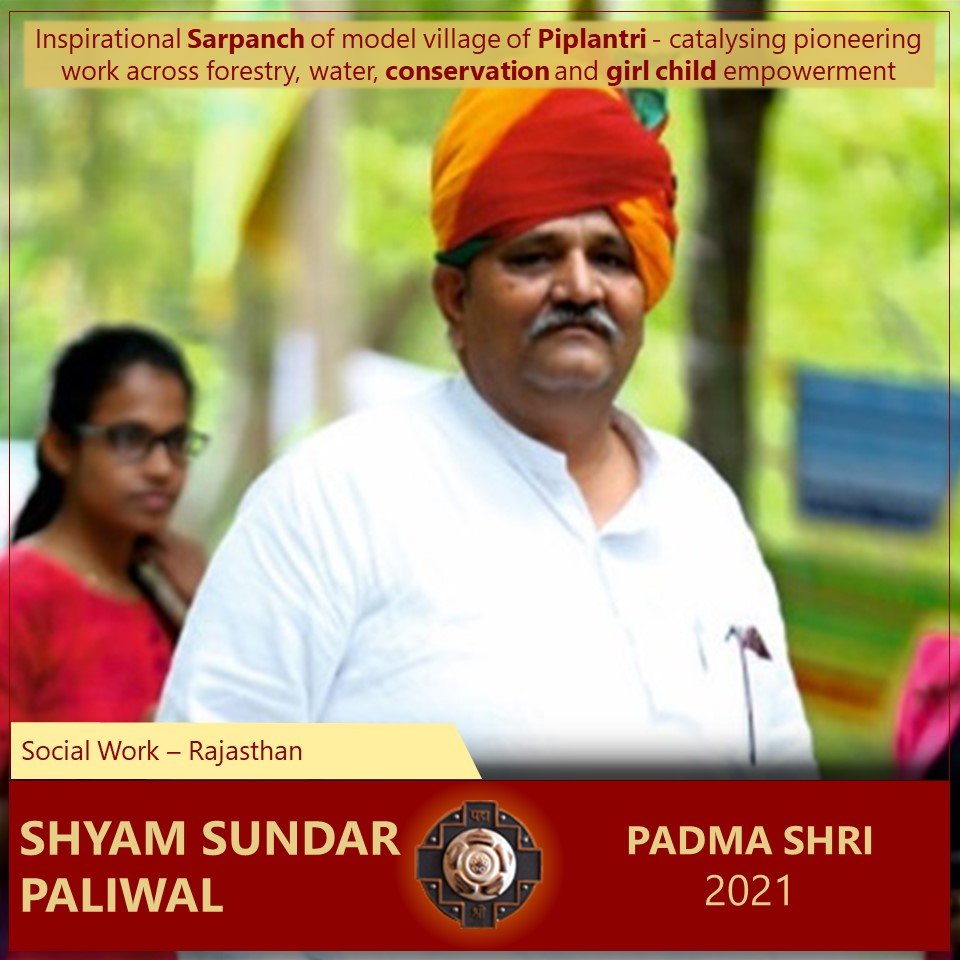 Shyam sundar Paliwal a resident from Piplantri Village, Rajasthan was awarded with Padma Shri today in the social work category. Paliwal is famously known as father of eco feminism a unique tag he got after dedicating his life in protection and conservation of girl child, water and trees.
Paliwal started his journey when he lost his daughter in 2006 he began a campaign in her memory of planting 111 saplings to celebrate the birth of every new-born girl. He was recognized after the Kiran Nidhi Yojana under which he continued to plant 111 trees for every girl child born in his village along with a financial scheme. With this scheme the sex ratio in his village improved drastically and soon this scheme was followed up by several Villages.
Lakha Khan
Lakha Khan a 80 year old Sarangi player from Rajasthan was awarded with the prestigious Padma Shri today. He is among one of the greatest folk singer and musical instrument players from Rajasthan who have given music a new height.
Lakha is a resident of Raneri village, a desert hamlet in the Jodhpur district. Lakha has been playing the Sindhi sarangi since he was 10 years old, he sings in Marwari, Sindhi Multani and Punjabi dialects and plays the sarangi while his son Dane Khan, who accompanies him as the dholak player.
Arjun Singh Sikhawat
Arjun Singh Sikhawat from Pali, Rajasthan is the fourth recipient for Padma Award this year. He was awarded today with Padma Shri for his excellent contribution in writing field.
Sikhawat 87, is the first person from Pali to be honored with this award. During his career he has written and edited over 50 books. Sikhawat spent his service tenure in the tribal belt of the region, with that he had a chance to study the lives of tribals. After that he started writing on life and culture of tribals and one of his work " Bhakar Ra Bhomiya" got critically acclaimed for its immaculate peek into the lives of the tribal people.