Nimbahera a beautiful small town located in Chittorgarh district, Rajasthan is famously known for its stone. A town with an population of nearly 78,123 is around 350 km south-west of the state capital, Jaipur.
Nimbahera is not a very prominent place among tourists mainly because it is not very well explored by many. But this small town holds attractive places like, 'Rock painting of Dhareshwar' and 'Ram Dwara Temple'.
This small stone town was named after the river Nimba and it came under the princely state of Tonk but later after independence it was joined together with Chittorgarh district.
The town has largest Krishi Upaj Mandi (Agricultural products market) and in 2009 The Krishi Upaj Mandi akola become the first and only district mandi with direct sale and purchase of commodities, wheat, corn, soybeans, and all other major raw food product.
Nimbahera slowly got into little limelight because of 'Nimbahera Stone' , a kind of Limestone which is used as a building material and raw material in cement manufacturing, thus making it a suitable destination for cement industries. Limestone is one of the biggest source of employment for people in Nimbahera.
The day is not very far when Nimbahera will become one of the highest cement manufacturing centres in Asia. It is expected that after the completion of its upcoming cement projects, Nimbahera will become the cement hub of India as well as Asia.
The town with many small scale as well as medium scale industries including fertilizer, soyabean oil processing, and plastic is now just known as an emerging business place but let me introduce you to a new face of Nimbahera which will give you a new vision to see this place.
Have you ever noticed the cement towers of Nimbahera? If not let's take a look in the pictures, isn't it resembling with something?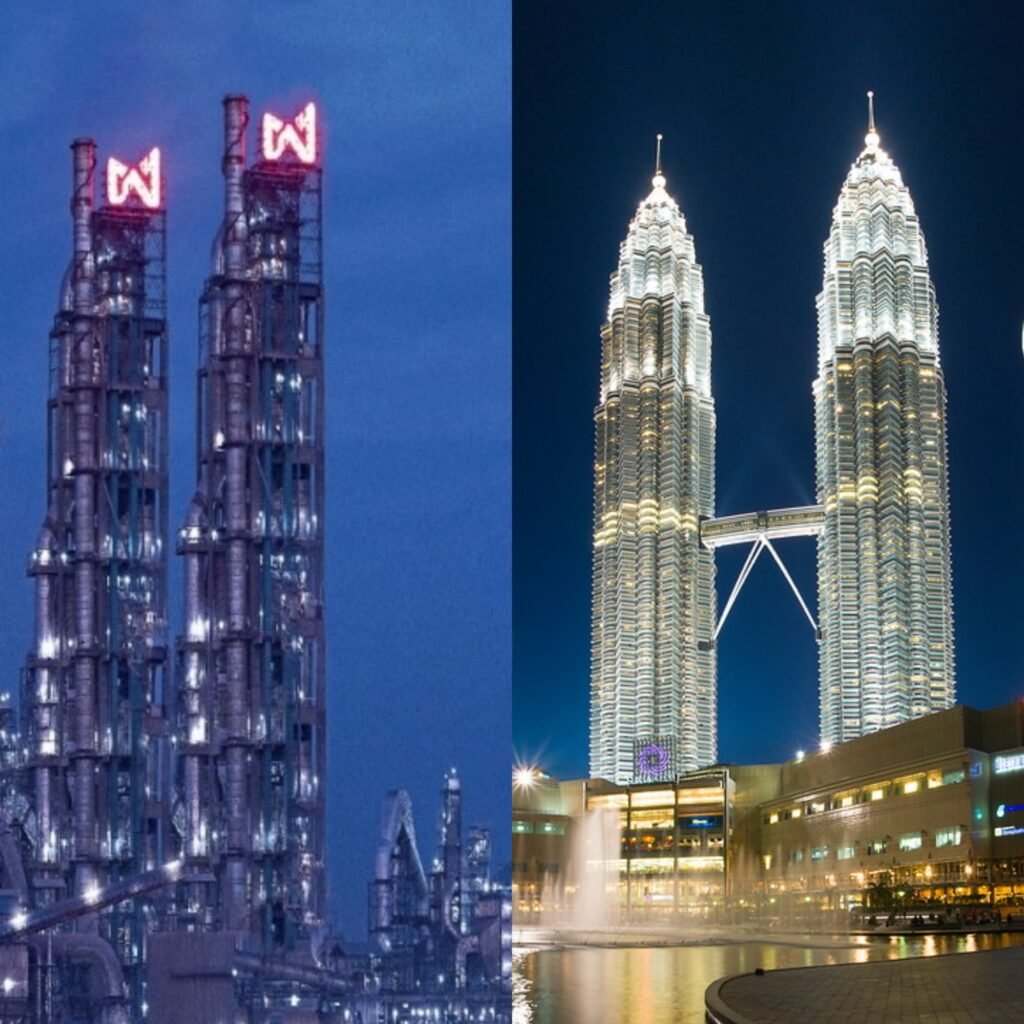 Let me answer your questions, yes it is the big cement towers seems like a living image of Malaysia's famous Petronas Twin Towers. How surprisingly unique it sounds, a cement tower looking exactly like the world's tallest twin towers.
Petronas Twin Towers is a famous tourist destination and has been prominently featured in many series and movies all across the world. Several scenes of the Bollywood film Don: The Chase Begins Again were also filmed in the Petronas Towers and its skybridge. But who knew India has it's own Twin Towers in the form of cement factory.
A small town surrounded by Industries gives a phenomenal view after sunsets, if you are in Rajasthan or near Nimbahera visit this place once to get a beautiful view of these towers. Nimbahera is well connected through both rail and road and it lies on the railway line connecting Ajmer to Ratlam.