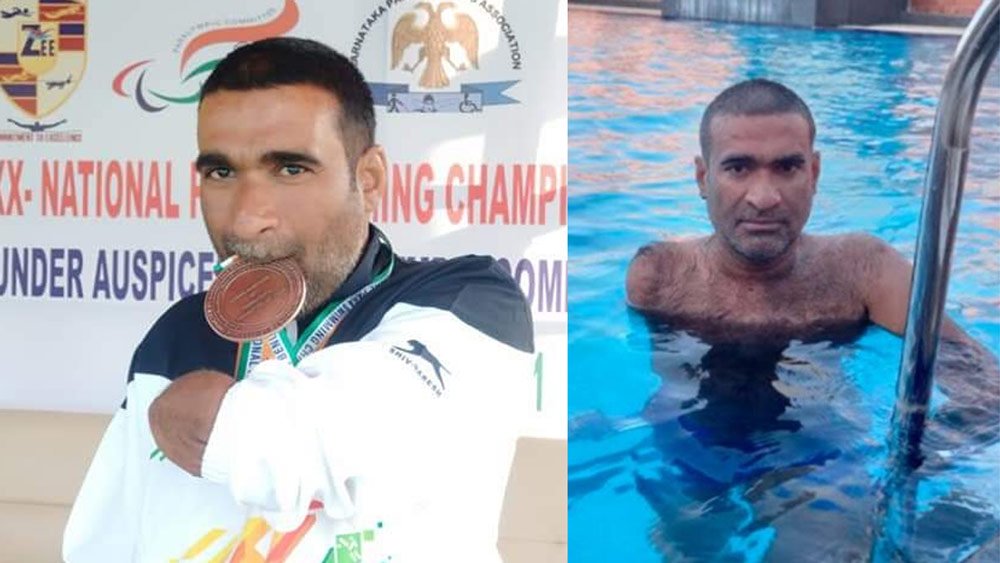 Inspiration tale: Pintu Gehlot reflects a never dying spirit even after losing his two hands in two different accidents and is now eyeing to win a medal in swimming tournament in Asian Championship to be held in 2022 in Hangzhou.
Pintu Gehlot, a resident of Jodhpur village in Rajasthan, is man of grit and determination who lost his two hands in two different accidents but refused to give up to the circumstances.
He has won 150 medals in different national and state level tourneys and is now eyeing to win a medal in Asian Championship to be held in 2022 in Hangzhou.
The sport star, a resident of Chokha village in Jodhpur in Rajasthan, lost his right hand in an accident in 1998 when he was a class VI student during a bus accident. However, he relied on his left hand and started writing his success story with it.
He tried swimming and made a mark for himself by training himself to emerge as an ace swimmer.
After seven years of hard work, he emerged as winner in the state para championship held in Jodhpur.
He won a gold medal in the 100 meter backstroke and silver medal in the 50 metre freestyle tournament. However, Pintu lost his other hand in 2019 while cleaning a swimming pool.
His hand had to be cut off as it was damaged so badly.
His father Omprakash Gehlot also lost one hand in this accident.
But Pintu did not get discouraged and continued with swimming.
He is presently connected with the Rajasthan Para swimming team as a coach and is training many young talents.
He has started a swimming centre where he is training physically challenged people free of cost.
Many of his students have also earned laurels and have won over 100 medals in different tournaments.
Pintu says that his ultimate aim is to participate in the Para Olympics and make a mark there. "I am trying to perform the best in the world class tournament," he says.
He won a bronze medal in the Para National Swimming Championship held in Bengaluru in March this year and is now busy making efforts to gather around Rs 12 lakh for his training in India and abroad for the Asian Championship.
Will someone come and help the brilliant sportstar?