Shri Gaur Purnima festival was celebrated with traditional zeal and fervour at Krishna Balram Temple located in Jagatpura on March 07 this year.
The temple was lavishly decorated with lights and flowers, the deity was adorned with divine supernatural attire and flower bungalow. At 6 pm, the divine Mahaabhishek of the Lord was performed by the Vice President of the temple Anantashesh Das with Panchgavya, juice of various fruits and holy water from 108 urns. At the end of the festival, flowers were showered on the Lord during the palanquin festival and the devotees participated in the festival by chanting Hari Naam and dancing. At the end Prasad was distributed to all the devotees who came to the temple.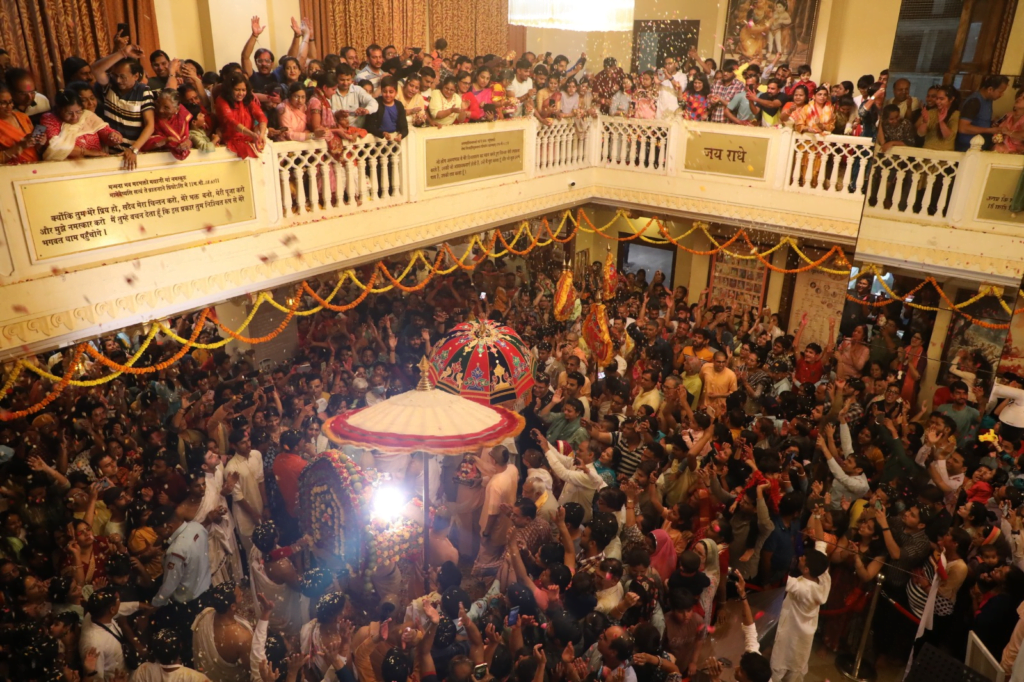 Who is Gauranga Mahaprabhu?
Shri Gaur Purnima is the appearance day of Shri Chaitanya Mahaprabhu, also known as Gauranga Mahaprabhu because of his golden complexion. As stated in the scriptures, the Supreme Lord Sri Krishna Himself appeared as Sri Chaitanya Mahaprabhu who chanted the holy names of the Lord through collective Harinama sankirtana "Hare Krishna Hare Krishna Krishna Krishna Hare Hare Hare Rama Hare Rama Rama Rama Hare Hare".
Taught the importance of devotion to Lord Krishna as the sole goal of human life. He appeared in Phalguni Poornima, Phalguna (February–March) in 1486 AD (1407) as the son of Srijagannath Mishra and Srimati Sachidevi in Sridham Mayapur, Bengal region. His parents named him Nimai because he was born under a neem tree in the courtyard of their ancestral home. The festival also marks the beginning of the new year for Gaudiya Vaishnavas.
Gaur Purnima Festival
Devotees enter the temple premises following the spiritual teachings of Sri Chaitanya Mahaprabhu, chanting the Hare Krishna mahamantra collectively. The celebrations began with the palanquin celebration of Sri Sri Nitai Gauranga (Lord Chaitanya Mahaprabhu and Lord Nityananda).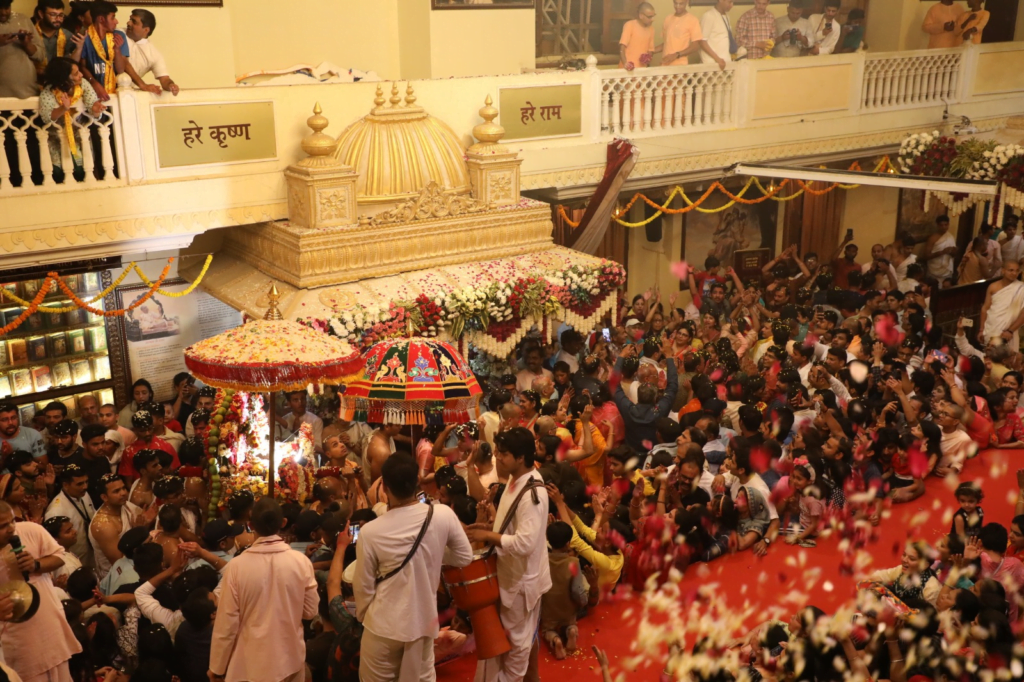 The Lord was taken to the Vrindavan Garden of the temple in a palanquin decorated with flowers with chanting of Harinam. After the palanquin festival, the deities of Nitai Gauranga were grandly consecrated. The Lord was first bathed with Panchamrit and then with Panchagavya, followed by Mahabhishekam with juices of various fruits and bathed with holy water from 108 urns. 56 (chhappan bhoga) delicacies were offered to the Lord, the devotee chanted the hymns of the Lord and prayed with the Brahma-samhita. A grand maharati was performed with bhajans and sri gaura aarti, composed by the great master of the Gaudiya Vaishnava tradition, Srila Bhaktivinoda Thakura. This was followed by Pushpa Vrishti (showering of fragrant flowers). Thousands of devotees attending the Shri Gaur Poornima festival received the blessings of Shri Chaitanya Mahaprabhu. This whole program was conveyed to the people through live on the YouTube channel of the temple, Hare Krishna Jaipur. At the end Prasad was distributed to all the devotees who came to the temple.