COVID Pandemic has, undoubtedly, thrown endless challenges, but there are endless opportunities too emerging around which are being tapped by industry leaders. The aim remains the same: exploring better opportunities for creating a better world.
The current pandemic times have thrown a tough situation to deal with and the industry veterans are busy finding solutions to sail smooth following resilience amid present times. Here we bring in a few veterans from diverse industries who share how they braved the odds of lockdown in 2020 to recreate possibilities in the shift.
A few excerpts from the seminar 'Here &Now: Recreating Possibilities in the shift organised recently by Anantaya in association with ADI during Maahi Roj Lite 2021':
The first panelist of the session was architect Swanzal Kak Kapoor who shared her experience of turning a dusty mining site of Gurgaon into a green haven. "This Aravali Biodiversity Park, is now home to more than 300 species of plants, 195 species of birds and several animals including Neelgai, Jackal, and Palm Civet," she said, adding that "Many people of Gurgaon came together to bring a difference and people contributed to the cause from behind the scene."
She further said, "Our lifestyles and education have moved us further away from core ecological values and principles. We need to get a right team along with right mentors, right resources, merged with  good intentions and mindfulness to bring a difference for the right cause," she added.
Aditya, one of the founders of Jaipur Mera Shehar, a collaborative organisation with roles facilitating, enabling and building ecosystems for diverse communities in Jaipur shared three high priority concerns which according to him, should be immediately addressed. He said,  "Networking is the basic need of a person. People are feeding rumours and there is lack of scientific thinking which should be stopped immediately. Shrinking physical spaces is yet another concern which needs to be checked," he added.
Aditya said, "We have been organising a series of mental health series of workshops and want communities to come out to interact. Post lockdown, Jaipur Mera Shahar started a campaign on ground to bring people back to physical spaces which was quite challenging."

 "Physical spaces did start to shrink somewhere seven eight years back which did raise concerns in those times, however pandemic has done last nail in the coffin. Most of us are happy in virtual spaces, however, these spaces can't be a tool if you want to make an impact in community. If we want to climb Everest, we will have to take steps," he added.
Geetanjali Kasliwal, Co-Founder of AnanTaya and AKFD said, "Possibility drives us and we can swing and support each other. This was the biggest takeaway from lockdown."
She says, "There was a digital universe and I was shying away to get into it since long time. However, now, am dealing with customers whose faces I have not seen and am welcoming all people behind screen with both hands. This is a new reality. We are moving slowly to understand and get back to what we thought was normal. Perhaps this is speed bump in our lives, which we see every monsoon," she said speaking on the lockdown.
She further said, "Anantaya has always taken pride in its work and our biggest strength is the vast network we are part of, of friends, colleagues, patrons etc. As an enterprise, we thought how we can maintain orders and fortunately we did not have to cancel anything. Eventually, none of our workers were removed and it's truly fulfilling to see that first person who joined us 24 years back is with us as of now as well."
Yunus Khimani, an artist who invested 24 years in education sector, and has been a former director of City Palace, Jaipur, acknowledged the fact that education has a huge power which has the potential to change the world and said that Education has the power to bring us together, to lead us to right path.
Speaking on lockdown, he said, "Lockdown last year was a boon for me.. I have never been as productive as I was last year. It was one of the most doubt clearing and creative time. I was an oil painter, but lockdown helped me to innovate. I got interested in sculpture and experimented with other colours too. Months of March, April and June were bliss."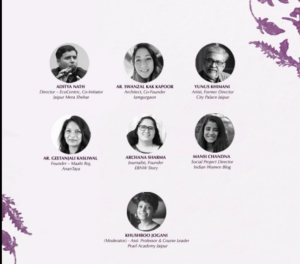 Archana Sharma, a journalist and founder EBNW Story, said that lockdown gave everybody a quality time to search for positivity spread around when the environment was surrounded with all kinds of negative news with people dying, infection spreading and stories of migration leaving you in tears. 
"We, as media, were surprised to see how people from across the world joined hands to sail smooth in tough times; tribal women were seen stitching PPE kits, government was making people aware via art and craft following puppetry shows and people were ready to help each other. So creativity was bubbling and hence came the time to click these positivity into one frame and came up EBNW Story."
The youngest amongst all panellists, Mansi Chandana, social project director, Founder Indian Women Blog, says that pandemic revealed diverse disparities present all around, in fact, in this city as well.
She said, "There are major concerns which all of us should immediately address. These include urban planning, loss of livelihood, food insecurities and increasing digital divide, opening more computer labs for kids etc."
The moderator of the session was Khushboo, assistant professor, course leader,  Pearl Academy who kept the audience and panellists engaged with her free flow of question, opinions and immersive thoughts.
The vote of thanks was proposed by Geetanjali Kasliwal.